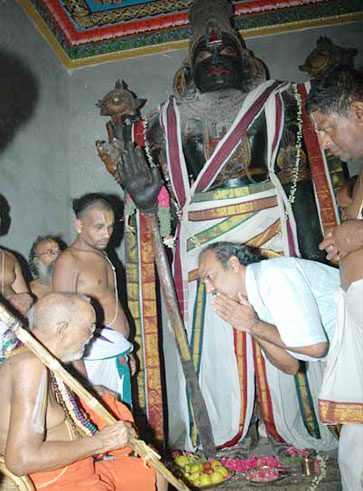 History of the Temple
Many years ago, a king got affected with a chronic skin disease. When all his efforts for recovery failed, he prayed to Lord Vishnu. The Lord appeared before him and told to travel along the banks of the Cauvery where Lord Margasagayeswarar (Lord Siva) would guide him to reach a holy place. There the disease will be cured and have the privilege of witnessing the VISHWAROOPA DARSHAN OF THE LORD. The Lord also told him that the skin disease which he got due to Hathi Dosham would be totally cured, if he takes bath in the Holy Viswaroopa Pushkarni for 48 days. He witnessed Viswaroopa Darshan of Lord in the fig tree. The disease was cured and the place was called KODIHATHI VIMOCHANAPURAM now known as Kozhikuthi. The king became sage Pippalar.
A Chola King sought the help and advise of sage Pippalar for coming out of the sins committed during war times. Pippalar advised him to worship Lord Sri Srinivasa Perumal and take dip in the Pushkarni for 48 days. He witnessed Lord Sri Srinivasa Perumal in the Fig Tree. He was astonished by the beauty of Lord Sri Srinivasa Perumal. The king with the help of great sculptors, Carved the Lord's form in a single Athi Tree and constructed a beautiful temple with 7 Praharams.
The famous "Pippalar Maharishi Theertham" where a holy dip is claimed to cure skin diseases is located here. There is a Pippalar Sannathi in the Maragasgayeswarar temple at Moovalur.